About Jaden Hair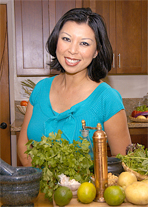 Professional recipe developer, food columnist, and food photographer specializing in fast, fresh, and easy recipes for the home cook..
Jaden is the author of www.SteamyKitchen.com, and also the publisher of www.NewAsianCuisine.com.
She has been featured on Martha Stewart Living Radio, Oprah.com, and Parents Magazine. Jaden was recently named one of the hottest women in food and also one of the best food bloggers on Forbes.com.
Now Jaden introduces her recipes on Daytime Show twice a month, and writes food columns on Discovery Health, TLC, and for Tampa Tribune. She also hosts cooking classes in California and Florida.
Her cookbook, The Steamy Kitchen Cookbook, contains 101 easy Asian recipes simple enough for tonight's dinner with over 200 color photographs, and has been featured on the Today Show and the CBS Early Show.
With over 113,000 followers, Jaden is one of the most influential people in food on Twitter.