Turkey Salad with Sesame-Miso Vinaigrette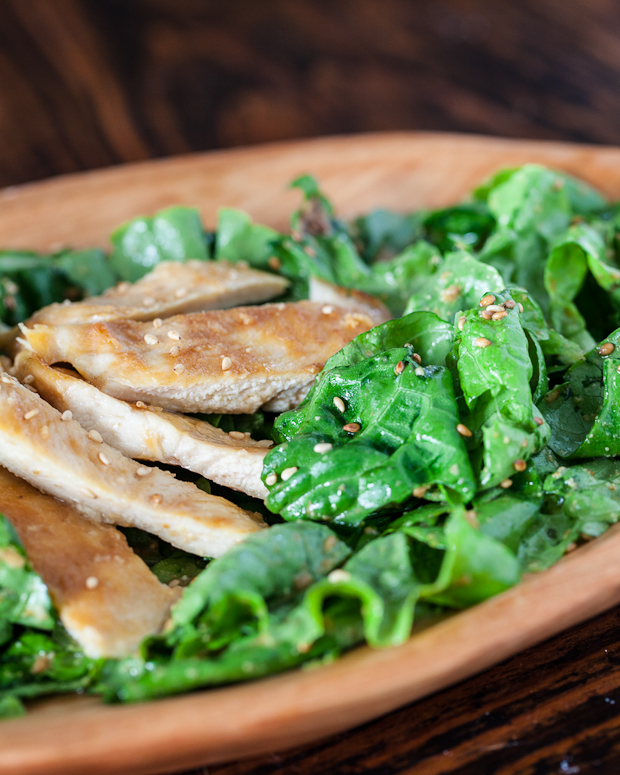 [Ingredients] Serves 4
1 skinless, boneless turkey or chicken breast
2 tablespoons sake
2 teaspoons grated fresh ginger
1 tablespoons Miso & Easy
1 teaspoon sea salt
2 small heads of butter lettuce, leaves torn
FOR THE SESAME-MISO VINAIGRETTE
2 tablespoons sesame seeds
1 tablespoon Miso & Easy
2 tablespoons rice vinegar
4 tablespoons rapeseed, grapeseed, rice or olive oil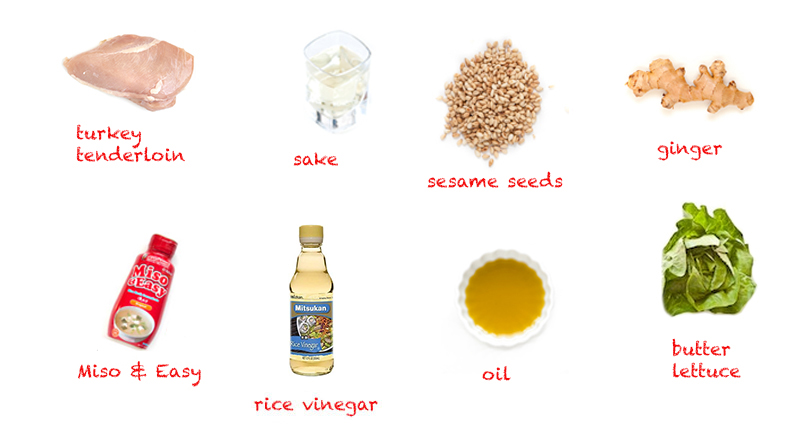 Prep time: 10 minutes
Cook time: 2 minutes
You could use any of the Miso and Easy flavors.
If you are using leftover cooked turkey, no need to cook the turkey. Just toss the lettuce and salad with the vinaigrette.
[Directions]
1. Turn oven to broil (high) and place rack 8″ below heating element. Slice the turkey breast into thick strips. Combine the sake, ginger, Miso & Easy and salt. Toss the turkey strips into the mixture. Place turkey on a baking pan. Broil for 8 minutes or until turkey is cooked through.
2. In the meantime, add the sesame seeds to a frying pan and roast over medium-high heat while shaking the pan to avoid burning the seeds. When the seeds start to pop, remove from the heat.
3. Reserve 1 teaspoon of the toasted seeds and set aside. Slide the remaining seeds into a Japanese grinding bowl or mortar and grind roughly. Mash in the miso to form a thick paste and add the vinegar to lighten (and brighten) the miso-sesame mixture. Whisk in the oil slowly until emulsified. (Be sure to whisk again right before dressing your salad.)
4. Toss the lettuce with the dressing. Place the turkey on top of the lettuce and sprinkle with the reserved toasted sesame seeds. Serve immediately.