Pumpkin Mashed Potatoes with Miso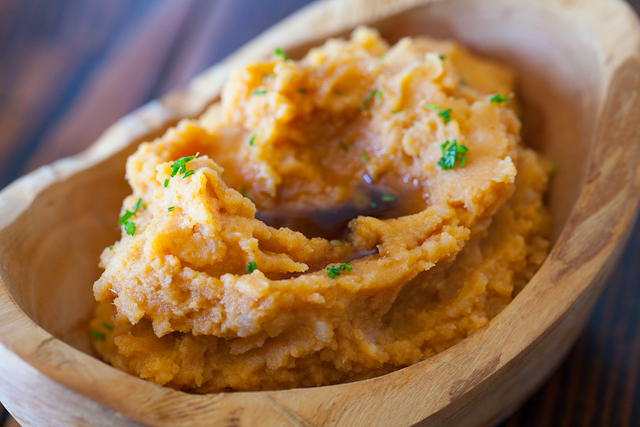 [Ingredients] Serves 6-8
2 1/2 pounds potatoes, peeled
2 tablespoons butter
1/4 cup heavy cream
15 ounce can pumpkin
1/2 teaspoon ground cinnamon
1/2 teaspoon ground ginger
1/8 teaspoon ground nutmeg
1/8 teaspoon ground cloves
2 tablespoons maple syrup
2 tablespoons Miso & Easy or 1 tablespoon regular miso paste
1/2 teaspoon salt
freshly ground black pepper
minced fresh chives or parsley (optional)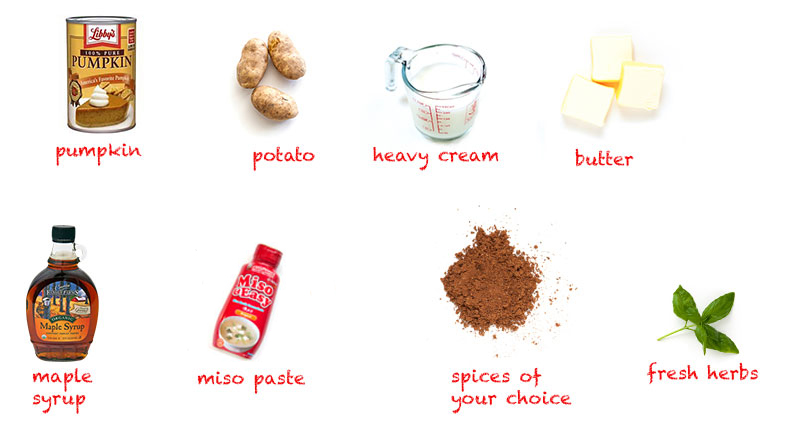 Prep time: 10 minutes
Cook time: 25 minutes
You could use any of the Miso and Easy flavors.
[Directions]
1. Put the potatoes in a large pot and cover with water. Bring to boil, turn to heat to medium-low and cook potatoes for 20 minutes or until you can easily pierce with a fork. Make sure when you cook the potatoes, that the water is a very low boil (a bubble burp every couple of seconds) – a big, rolling boil will make your potatoes mushy. Drain water.
2. Mash the potatoes. Mash and stir in the remaining ingredients to the mashed potatoes until smooth. Taste and adjust seasonings if needed.